Tekizma Recon Suite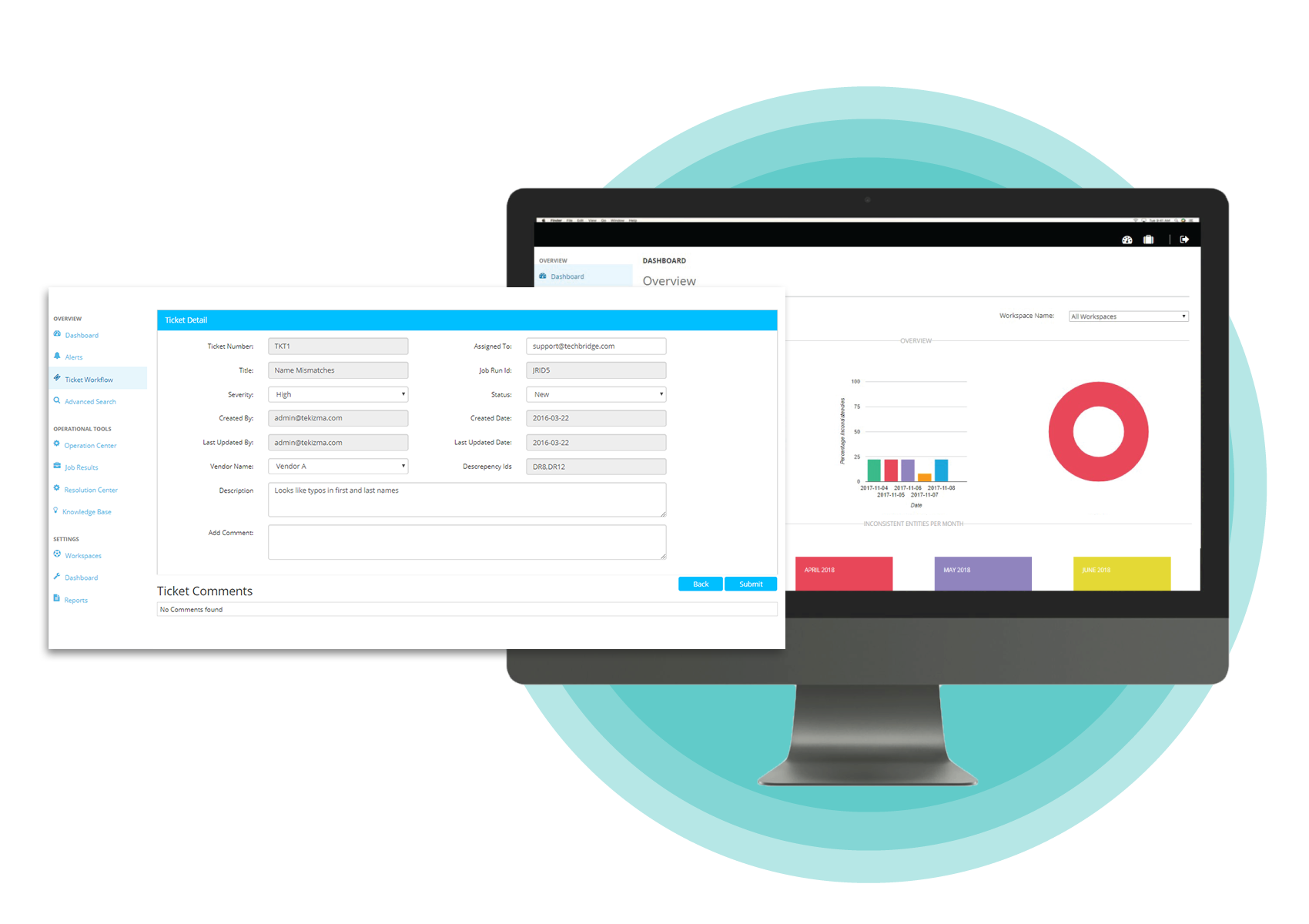 Tekizma Recon empowers enterprise owners with unparalleled data integrity oversight by proactively identifying and correcting intersystem discrepancies before they impact end-consumers.Tekizma Recon distinguishes itself as the only tool on the market that offers complete health data reconciliation solutions.
Enterprise owners are presented with an intuitive means of governing all scopes and aspects of the reconciliation process. Tekizma Recon enables users to easily and precisely configure cross-system mapping criteria while remaining format agnostic and integratable with multiple database management systems. It also boasts the ability to digest vast amounts of data through utilization of Apache Spark. Furthermore, Tekizma Recon is available as both Software as a Service (SaaS) and as a local, standalone installation.
Though designed to be industry-agnostic, Tekizma Recon was originally deployed to oversee state health exchange eligibility systems. The IT infrastructure that supports health exchanges is complex. Several different institutions, systems and users are constantly interfacing with one another. Data moves with such rapid pace and density that information can get lost in translation, giving rise to unintended asymmetries which, left unchecked, become compounded and difficult to trace. In the end, we want to ensure system level discrepancies have no effect on the delivery or quality of healthcare. Without Tekizma Recon, the burden of these inconsistencies falls on consumers.
By providing timely, specific information about aberrations in exchange system data, Tekizma Recon maximizes oversight efficiency and ensures that all consumers have continuous, reliable access to quality care.
Tekizma Recon addresses the four area of the reconciliation Process – Identification, Analysis, Resolution and Correction. As part of Identification process, Tekizma Recon Suite has a high performance reconciliation module that determines the discrepancy of data from multiple sources. It has rule based alert system that notifies the customer of potential issues over a threshold value. It has an in-build adaptive learning knowledge base that helps in Auto-Analysis of the issue. Tekizma's Data Viewer displays the data from various sources with various formats for side-by-side comparison which helps in analysis of the data. It supports generation of transactions to correct the data. Again the adaptive learning knowledge base is used in Auto-Resolving issues. Any issues Manually resolved is fed into the knowledge base for adaptive learning.
Tekizma Recon Suite - setting the standard in health system reconciliation
Automatic, early detection and notification of issues

---

Intuitive dashboard, which clearly displays system reconciliation errors

---

Robust subscription and alert mechanisms
Ability to track and assign issues within the system

---

Advanced resolution dashboard to fix reconciliation issues

---

Adaptive learning knowledge base that helps in auto Analysis and resolution of issues